JR128-R01-PRO-brushless
1/28 2WD indoor RACER-PRO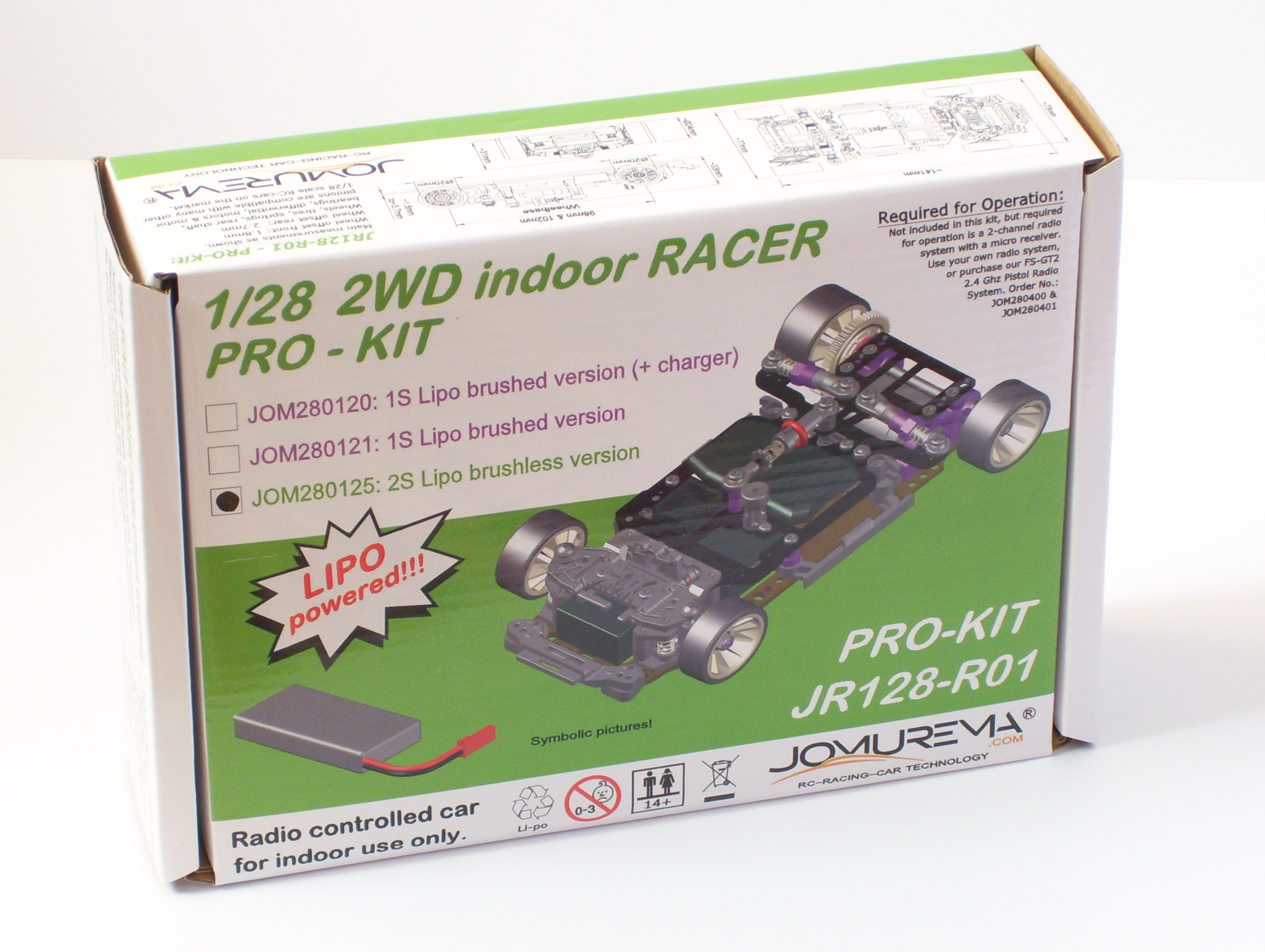 cars with a lot of very advanced opportunities for fine tuning and car setup, which
you might find very surprising in a car of this very small size.
9 ball bearings, an adjustable ball differential with 64dp fine pitch and with V-grooves in the main gears, produced under license of PN racing, upper carbon plates and many aluminium parts make you really ready to race out of the box.
Comes with a 2S / 7.4V Lipo battery, a brushless motor and brushless ESC, aluminium steering knuckles, a transponder holder and a fast 11mm Digitalservo.
Various other commercially available steering servos, micro receivers and Micro car ESCs for brushed or brushless motors from other brands can be built in and used in this car.
The chassis offers the following features:
Caster-angle at front suspension adjustable in three positions: 1.1°, 2.7°, 4.4°.
Camber-angle at front suspension left and right adjustable: from 0° to -2.5°.
Toe-in / Toe-out adjustable at: 0°, +1°, +2°, -1°, -2°.
Droop limits at front suspension free adjustable.
Adjustable springs at front suspension.
Ground clearance front and rear adjustable on 4 levels in steps of 0.7mm.
Longitudinal damper with spring and droop-spring fully adjustable.
Cross-dampers with springs for fine tweak adjustment.
Rear scale body holder adjustable in height with included washers.
Second rear scale body holder for wider scale bodies included.
Front scale body holder set adjustable to most scale bodies from other brands
for wide front and 98mm or 102mm wheelbase.
Content of the Box:
Not assembled JR128-R01 PRO BRUSHLESS RC CAR KIT:
High Resistance Professional Chassis
Adjustable Front Suspension
Adjustable Rear Suspension
9x Ball Bearings
Ball Differential (V-Groove PN)
11mm Digital Steering-Servo;
Brushless Motor 6500 kV; Hobbywing 2S / 7.4V / Brushless ESC programmable; Aluminium Steering Knuckles; Transponder Holder
Lithium Polymer (Lipo) Battery:
2S / 7.4V / 25C / 420mAh Lipo Battery
Manuals and Decal:
Manual for JR128-R01-PRO indoor Racer
Miscellaneous Parts and Tools (8 Bags):
Cross-Screwdriver; Hex-Wrench-1.5mm; +3 different plastic Tools
Front Body-Holder-Adjustment-Set for many other Car Bodies
Miscellaneous adjustment Parts and Washers
Steering- Servo-, Rear Body-Holder- and Adjustment- Parts
Other Pinions and replacement Gear for Change of Car-Speed
Steel- and Replacement Parts and Springs for Change of Setup
O-Rings for Replacement
Screws for Replacement
All plastic Parts from plastic RTR-Set